You'd be forgiven to think it's summer all year round in Sydney and how the prospect of spending every weekend at the beach would be inviting. The truth is, winter is cold and often it feels way colder than in UK. Housing is badly built and insulation and central heating rarely exist so it tends to be warmer outside than in. I've spent winters here where it's so cold I can see my own breath in my house! It's not fun. The good news is it doesn't rain all that often and not half as much as it did back in London.
Summer is amazing in Sydney, I tend to spend it exploring the many beaches around the city but when it comes to winter what is there to do? There are only so many times I can go to Westfield so I've decided to write a post to inspire any of you that are sat at home wondering what to do on a weekend with no plans. Here's my Top 11 things to do in Sydney winter!
---
ONE
I tend to swap going to the beach with exploring the Sydney Cafe scene in Winter. There are so many cracking cafes in Sydney that it never gets boring. I usually spend most of my time in Alexandria finding new wholefood cafes. More on that here.
Bread & Circus – Alexandria
---
TWO
Head over to the MCA (Museum of Contemporary Arts). This is not somewhere I'd spend my summer because I love to be outdoors appreciating the weather. There are some great exhibitions on and it's worthwhile finishing the day off at the rooftop cafe for stunning views of the harbour.
MCA Rooftop Cafe
---
THREE
Sydney has some brilliant markets going on year round at the weekend. From Bondi Markets, Glebe and one off Round She Goes, I've found some great things especially from my favourite – Kirribilli Markets.
Kirribilli Markets
---
FOUR
Head out for a Sunday Roast. This is a very British thing to do and it's a great way to catch up with friends. (see my popular post here)
Sunday Roast at The Lord Dudley, Woolhara
---
FIVE
Christmas in July is a must exprience in Sydney. There is a traditional celebration up in the Blue Mountains or you can always spend it at places like this.
Christmas In July at Ripples, Chowder Bay
---
SIX
Go for a long winter walk. There are so many great walking tracks around Sydney, from The Spit – Manly to Bondi – Coogee, this is a great way to spend a Sunday afternoon. Best of all is it's not nearly as half as busy as it is in Summer when all the tourists flock to Sydney!
Bondi to Coogee Walk
---
SEVEN
Got a spare weekend free? Why not hike 26 km along the cliffs of the Royal National Park. The 2 day hike is a must do. The track from Bundeena to Otford will show you many secluded beaches such as Little Marley but you'll have to take everything you need from food and water to camping gear to see you through for the 2 day hike. There's a campsite en route but make sure you book well in advance as it's booked up all summer meaning winter is an ideal time to go.
The Royal National Park 26km hike
---
EIGHT
If you're like me and a big kid at heart, Boing Central is the place to go! With over 1000 square metres of trampolines, head to Baulkham Hills for loads of fun. Prices start at $15 an hour for Adults 16 years and up.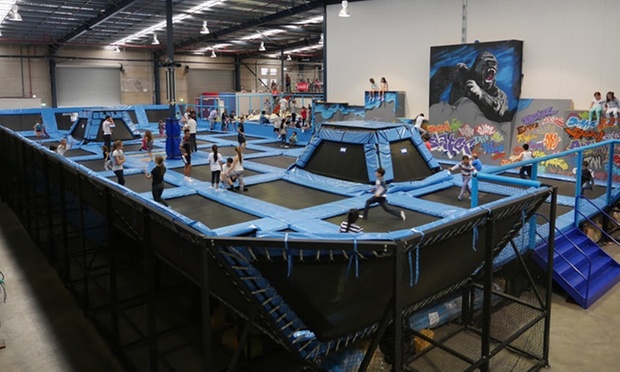 Boing Central – Baulkham Hills
---
NINE
Another a big kid at heart fun activity to do on a weekend would be to play Laser Tag. I grew up playing this with my brothers and I once took a guy out on a date back in London to one. It was so much fun even if we gate crashed an 11 year olds birthday party! There are many places you could catch a game or two such as at City Amusements next to The Qantas Arena or Chatswood and Macquarie Centre.
Laser Tag
---
TEN
Sydney can get pretty claustrophobic from time to time so make the most of your weekend buy getting out of Sydney for the day or the whole weekend! I find the Blue Mountains is my go to place in winter where the air is fresh and it feels very wintery. Why not do a day trip to Berry, Wollongong, Palm Beach or up to Newcastle for the day? Or head down to the ski slopes of Thedbo, a five hour trip from Sydney. Read my Blue Mountains post here.
Blue Mountains
---
Eleven
One of the great things about winter is it's not too early to get up and watch the sunrise over Bondi Beach. The sun rises at around 7am in the winter meaning it's easier to get up to watch one of the incredible shows it puts on at the beach. A must do!
Bondi Beach
---
What are your go to activities in Winter? Sydney's not the biggest city so learning of some great hidden gems is always a great thing in my eyes!
Thanks for reading,